Our standard delivery is by overnight carrier, on a next day service, nearly anywhere in the UK, with no minimum order charge.
Standard next working day carriage is free on all orders over £130.00 (excluding VAT).
For orders under £130, we can now offer you two options to suit your workload and schedule:
Next working day delivery: £13.50
Next working day delivery before noon: £17.00
Special deliveries are on a slightly more restricted basis and include next day by 9am or 10.30am, Saturday before 9am and Saturday am.
The surcharges for these delivery services are as follows:
Next day before 9.00am: £32.00 (*20kgs maximum weight)
Next day before 10.30am: £25.00 (*20kgs maximum weight)
Saturday before 9.00am: £47.00 (*20kgs maximum weight)
Saturday am*: £35.00 (*20kgs maximum weight)

*

Special Deliveries over 20kg incur additional delivery costs – please confirm at time of order.
Deadline for orders is generally 6.00pm Monday to Thursday, and 5.30pm on Fridays.
Orders for slitting and sprocketing at non-standard sizes will go out next day if placed before 5pm.
Due to pressures of orders and the practicality of meeting our carrier's deadlines this is a guide and cannot be guaranteed.
There is a nominal £8.00 per roll slitting charge, for slitting rolls of material down to narrower widths.
For example, if you require a roll of 1300mm to be slit into 2 narrower rolls of 650mm wide, then the slitting charge would be £8.00.
We cannot re-slit material on 2″ cores.
The sign products are all now offered on a 'no surcharge for standard rolls' basis.
A standard roll is generally 10M, 25M or 50M (45M for some speciality items and 1M for some expensive items).
All prices are exclusive of VAT, unless stated otherwise and may be subject to change without notice. Please read our terms and conditions.
Due to the complexity of use the purchaser should carefully consider the suitability and performance of the product for each intended use, and the purchaser should assume all risks regarding such use.
All specifications are subject to change without prior notice.

---
Ordering materials / opening hours

Our Sales Offices are manned between 8.30am and 6.00pm Monday through Thursday, and 8.30am to 5.30pm on Friday.
You can place orders in various ways:
Ring the Sales Office:
Southern Office:
Tel: 01753 696977 Fax: 01753 567733
Northern Office:
Tel: 01709 829800
Free Fax: 0800 374635
Email the Sales Office: sales@allprint.co.uk
Online Ordering: We have also recently introduced on-line ordering, please contact the Sales Office for more information.
The Sales Office team consists of industry hardened staff who have practical hands on experience coupled with excellent customer service skills.
The Field Sales team have decades of industry experience behind them to help guide you and ensure you receive the correct products in the correct time frames.
If you can't get through on the main telephone numbers…
We have experienced intermittent issues with our phones lines due to a BT fault outside our control, so if you can't get through please use one of the alternate contact numbers below to speak to our sales staff.
Northern Office: 07472 237446

Southern Office: 07472 270039

Southern Office: 07843 349112
Alternatively you can always email us your order/enquiry on sales@allprint.co.uk or use our tried and tested fax line: 0800 374635
---
We can accept payment in many forms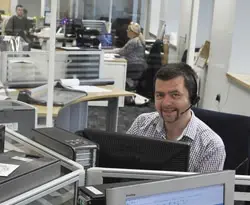 BACS payments or Bank Transfer.
Direct Debit.
Credit or Debit Card: We accept most credit cards and there is no surcharge for using them.
Credit Accounts: These are available upon satisfactory credit references. You can download our 'Application for a Credit Account' form (PDF) by clicking here.