LX Hausys BENIF Interior Films
LX Hausys BENIF Interior Architectural Films are a complete range of vinyl based architectural interior films in a wide variety of textures and colours for applications to almost any surface including wood, metal, plaster board and melamine. The complete range offers a varied choice of 475 different textures, finishes and colours in solid colours, plain high gloss colours, high quality wood grains, marbles, stone and fabric patterns.
2D
400+ different textures and shades
'Air-free' high tack solvent permanent acrylic adhesive
130gsm backprinted PE liner
Fire rated EN13501-1
Width of 1220mm
Available in any roll length between 1M – 50M
» Download the UK stock products brochure (PDF) – featuring over 100 of the most popular products, in stock ready for next day delivery to the UK mainland
» Download the complete sample catalogue (PDF) – the complete range features the full list of over 400 products, available subject to minimum order & lead time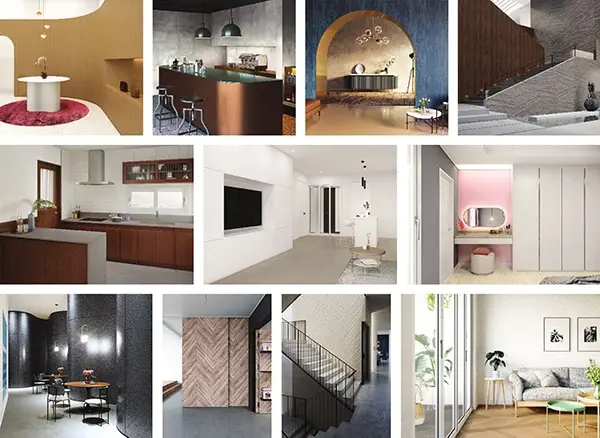 LX Hausys BENIF Interior Films offer a complete range of vinyl based architectural interior films in a wide variety of textures and colours.
These Interior Architectural Films from LX Hausys offer a complete range of over 400 vinyl based architectural interior films in a wide variety of textures and colours.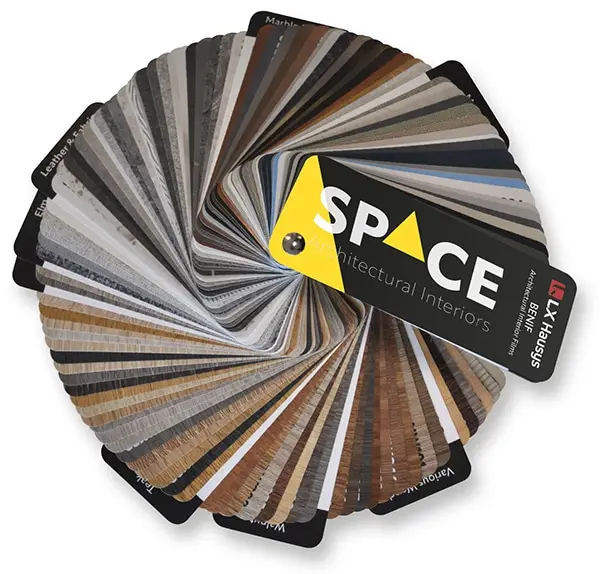 We stock the most popular patterns in the individual ranges here in the UK for next day delivery, this UK Hot 100+ range covers most day-to-day demands.
The LX Hausys Interior Film guide features several hundred other patterns that can be ordered with a lead time of between 1 and 2 weeks.
The 150µ – 250µ thick films are designed for a wide range of applications where speed of refurbishment is time critical.
These interior design films can be applied to almost any surface, including:
Wood
Metal
Plaster board
Melamine
Quickly transform walls, doors, ceilings, furniture, skirting and architrave with minimum disruption, less environmental impact and at a lower cost.
All products feature a high tack permanent 'air-free' adhesive to aid application.
The films are resistant to impact, abrasion and scratching, while remaining stable when exposed to heat, cold and humidity.
They are flexible enough to be adhered to shapes and curves including 90° edge returns.
Can be installed rapidly, minimising disruption, and are easy to repair.
All are CE Certified and IMO Certified by Lloyds, so you can specify with confidence.
With LG Hausys BENIF Interior Film you can create trendy and stylish interior spaces in commercial and residential areas.
These films for interior design are popularly used in Showrooms, Hotels, Cafes, Lobbys, Receptions, Kitchens, Toilet areas, Bedrooms, Living Rooms, Home offices and more.
» For the list of UK stock items check this PDF brochure.
Product Warranty and Product Construction information is available from our Sales Offices on request, call: 01753 696977 or 01709 829800.
» To help you prepare the substrate to receive LX Hausys BENIF Interior films we offer PM04 Surface Primer, a water based surface primer particularly suitable for priming MDF.
» Read our short LX Interior Films guide for essential information on how to succesfully apply these self-adhesive films, including which surfaces the range of LX Hausys BENIF films can be applied to, essential tips for succesful applications and adhesion onto different surfaces, plus how the use of the correct primer will aid your applications.
Get Notification of New Products & Offers
Just click the button below, then fill in your details and we will keep you up to date on all new products and offers that we are running.
Interested in a product or have any questions? Give us a call!