Some tips to maintain your digital printers in good order.
Over the years we have been asked by many customers for support and detailed information on the best practice with wide-format printers, and also for maintenance tips on the machines.
Whilst we focus on consistent good quality media, we have a large amount of experience in printing all types of media in our print room. From this we have put together the following tips and hints to help maintain your machines.
Location of your printer
Your printer must be kept clean and in a dust free environment.
This is critical to ensure the print output is also clean and dust free.
Our printers are regularly wiped down with a slightly damp cloth to keep dust levels to a minimum.
This includes all flat surfaces of the machine, including the legs!
The floor area is kept clean, all packaging, media off cuts and old prints are kept away from the printer.
This helps to avoid any accidents where rolls can fall over and contact the printer or prints!
We recommend the use of roll holders to store media on…. These have saved us a lot of problems!
The printer needs to be kept away from large extremes of temperature and humidity.
Very high temperatures can have a negative impact on the drying of media, with the inks not having enough time to flow.
Low temperatures can have a big impact on media drying times and lead to problems with printed media sticking to itself on either take up rolls or the floor.
Keeping the printer at around 18–24°C has worked very well for us over the years.
Ventilation to allow an air change is also important to prevent a build-up of solvents or heat in the print room. This also provides a good environment for the print operator!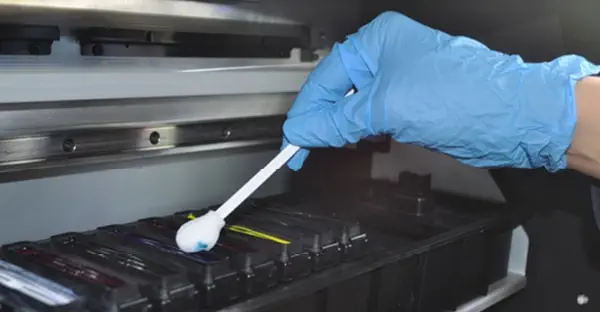 Printer Maintenance
All new printers are sold with a manual detailing clearly the steps you need to take to keep the machine in good condition.
These daily, weekly and monthly routines are absolutely critical to ensure the printer and print head are kept in optimum condition.
Because Solvent ink will dry quickly, the cleaning of the printer, the heads and the media carriage is important to keep your machine in tip-top condition and ensure output is perfect day after day.
Each machine is slightly different, so it's almost impossible to spell out here the individual steps for each Solvent printer currently on the market. However your printer manufacturer should be able to assist you in finding the correct schedule for your particular machine. The web is also a great place to pick up the appropriate tips and hints on maintenance.
We always carry out a nozzle test before carrying out any work.
It's a rapid and very easy method of checking your printer is in good condition.
It should be printed as a series of sharp well defined lines in each of the print colours.
Any deviation, in terms of wavy lines or missing lines is an indication your machine may need maintenance action.
Running machines with missing nozzles, like the example image shown below, can be OK, however missing colours in the output can look unsightly and lead to work being rejected by your client!


We offer a range of 'printer maintenance products' to help ensure trouble-free running of your printer.
Do you have any questions about our products?
For all enquiries and to request samples and pricing, call us on: 01753 696977 or 01709 829800 or email: sales@allprint.co.uk