Avery Dennison Supreme Wrap Series
Sign Media: Wrapping Long Term
Dual layer cast films for solid colour wrapping of vehicles – over 100 colours in a variety of finishes, including gloss, satin, matt & pearlescent as well as Carbons, Brushed, Chrome, ColorFlow switchable and Diamond sparkle.
Outstanding durability and performance, with excellent conformability around curves and recesses.
'EA RS' easy-apply, repositionable and slideable adhesive
Fire rated EN13501-1
Available in any roll length between 1M-25M
Car Wrap Visualizer Tool: Take the guesswork out of choosing a vehicle wrap! Use the Avery Dennison Wrap Visualizer Tool and start visualizing how your ideal wrap colour will look on your own vehicle!
Avery Dennison Supreme Wrap Series are dual layer cast films for colour wrapping of vehicles.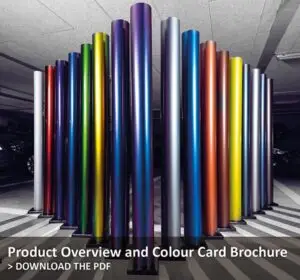 The Supreme Wrap Film Series has outstanding durability and performance with excellent conformability around curves and recesses.
The adhesive is the patented Avery Dennison™ Easy Apply RS technology that allows for faster positioning, bubble-free application, and long term removability.
The range consists of over 100 colours in a selection of finishes and stunning effects:
Gloss
Satin
Matt
Pearlescent
Carbons
Brushed
Chrome
ColorFlow switchable
Diamond sparkle
We can offer a colour matching service for Supreme Wrapping Film solid colour vinyls, matching to specific Pantone® colours, or custom/bespoke colours – get in touch for a quote; bespoke colour matched vinyls can be ordered in relatively small quantities and aren't as costly as you might think.
---
» See the Products In Range links below for full details and datasheets for the products in this Supreme Wrapping Films range, or click here to go back to view the other manufacturer ranges in our Wrapping Long Term vinyls category.
Get Notification of New Products & Offers
Just click the button below, then fill in your details and we will keep you up to date on all new products and offers that we are running.
Interested in a product or have any questions? Give us a call!