Our old floor graphics needed a refresh – here's a quick rundown of how we did it using Mactac FloorGrip
Before and after…
The old floor graphics had to be replaced as the imagery needed updating, plus they had started to look dirty after all the traffic that had passed over them!
We removed the old graphics (which had ben printed using UV inks directly onto our Mactac FloorGrip textured, slip rated floor laminate).
The old graphics had been in-situ for over a year but came up cleanly and easily with hardly any adhesive residue on the tiles; so cleaning the tiles for the replacement graphics was really quick and fuss-free!
To clean and degrease the tiles after all the old vinyl graphics had been removed we used our Avery Dennison 3D Surface Cleaner.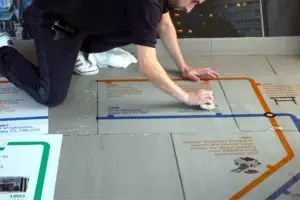 We designed the graphics to fit inside each of the tiles, so careful measurement was needed to plan the artwork, and we allowed an extra 15mm bleed when we printed them to make installation/joining up the images on the tiles easier.
The floor graphics were printed with UV inks, directly onto Mactac FloorGrip (a fire rated, R11 slip rated, textured floor laminate suitable for 12 months internal and 3 months external protection of floor prints).
To install the new graphics we used our RAPIDTAC ORIGINAL application fluid to make repositioning the graphics easier, as we could slide the prints into exact position on the tiles ensuring all the graphics lined up perfectly!
NB: Using RAPIDTAC application fluid also provided us with a stronger adhesive bond once the adhesive had dried!
Once the printed floor graphics were in position and fixed to the floor, to finish we hand trimmed the excess 15mm off the edges and squeegeed out any remaining application fluid under the vinyl, paying particular attention to firmly fixing the edges to prevent any edge lift of the vinyl.
Mactac FloorGrip is our most durable film for internal floor graphics and has a 12 month internal warranted R11 slip rating – In addition, we also offer a well stocked range of media for internal and external floor graphics for printing and lamination.
Call our Sales Office for more information and to request samples:
01753 696 977  or  01709 829800