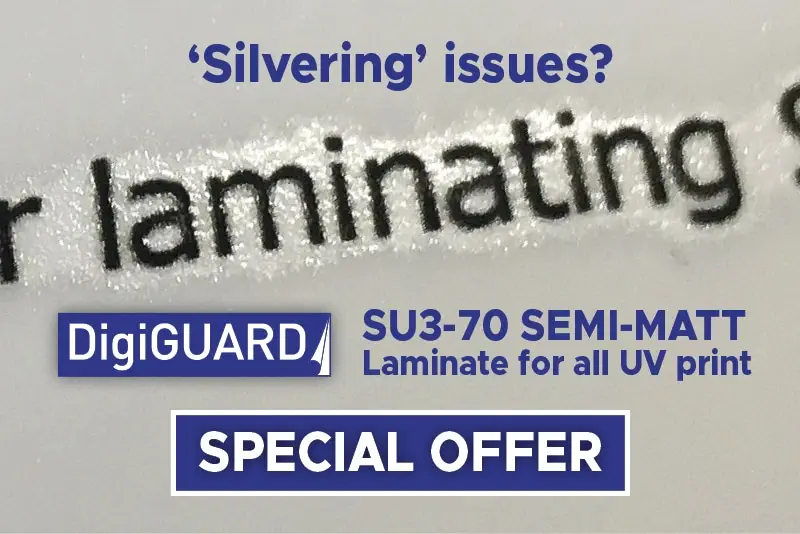 For a limited time only DigiGuard SU3-70 Semi-Matt laminate for UV prints is available at special offer, reduced prices!
DigiGuard SU3-70 can be used universally over all printing inks, including UV.
A colour neutral, 80µ PVC pressure sensitive laminating film with a photograde clear adhesive that guarantees a high bond with minimal silvering and bridging around heavily UV inked areas.
Semi-Matt laminate for SOLVENT, LATEX, UV and AQUEOUS prints
Monomeric, 1D conformability
External life of 3-5 years
Solvent permanent acrylic adhesive
Minimal silvering and bridging around heavily UV inked areas
80gsm single-side PE coated liner
Fire rated BS 476 Class 0
Widths of 1350mm and 1560mm
Available in standard roll lengths of 50M, 100M and 'buy the metre'
DigiGuard UV Laminates are also available in TU3-70 Matt Textured + GU3-70 Ultra Gloss finishes.
---
We stock all the media you need to complete your graphics projects – whatever you need to fulfil your graphics applications we are here to help you.
For more information, enquiries and to place orders contact our sales team: 01753 696977 or 01709 829800 or email: sales@allprint.co.uk