See the savings and quality that Nazdar Solvent inks offer.
We have hundreds of customers saving money by switching to Nazdar ink for Roland and Mimaki Solvent printers.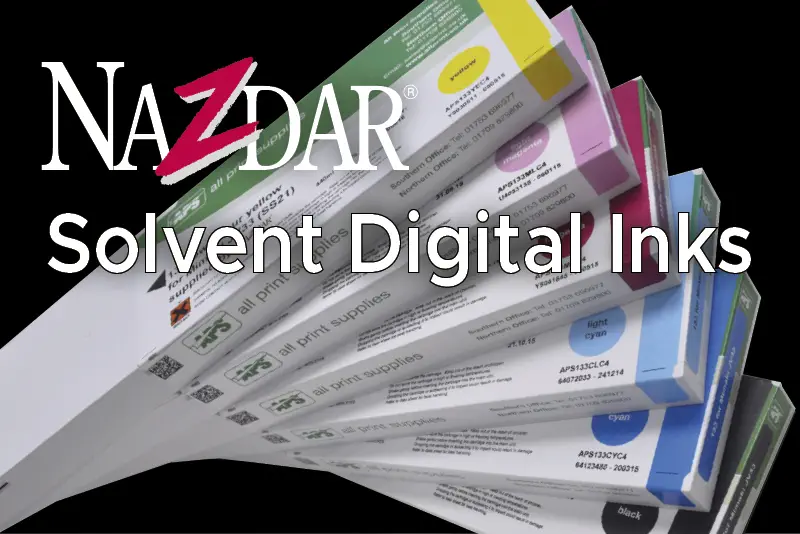 These inks are almost identical in colour to the original inks, so no need for re-profiling.
Simply plug these inks in and you are ready to go… there's no need to flush out your original inks, just mix 'n' match ink cartridges.
We have been selling the Nazdar range of digital Solvent inks for nearly 10 years and they have proven to be no-fuss, 'plug and play' inks for Mimaki and Roland Solvent printers.
Our comprehensive range of digital inks are manufactured in the UK and have followed extensive testing on our own in-house printers.
Nazdar have been making ink since 1922 and established a digital ink division way back in 1995.
This knowledge and expertise allows Nazdar to offer the Industry's strongest third-party warranty.
Available in 440ml cartridges – prices from £60 per cart.
Bulk ink options are also available.
Click the button below to see our complete range of Nazdar Inks – in stock and available for next day delivery!
---
We stock all the media you need to complete your graphics projects – whatever you need to fulfil your graphics applications we are here to help you.
For more information, enquiries and to place orders contact our sales team: 01753 696977 or 01709 829800 or email: sales@allprint.co.uk