We have updated our website Colour Picker Tool to include all of the latest 2,135 x Pantone® Coated Solid Colours.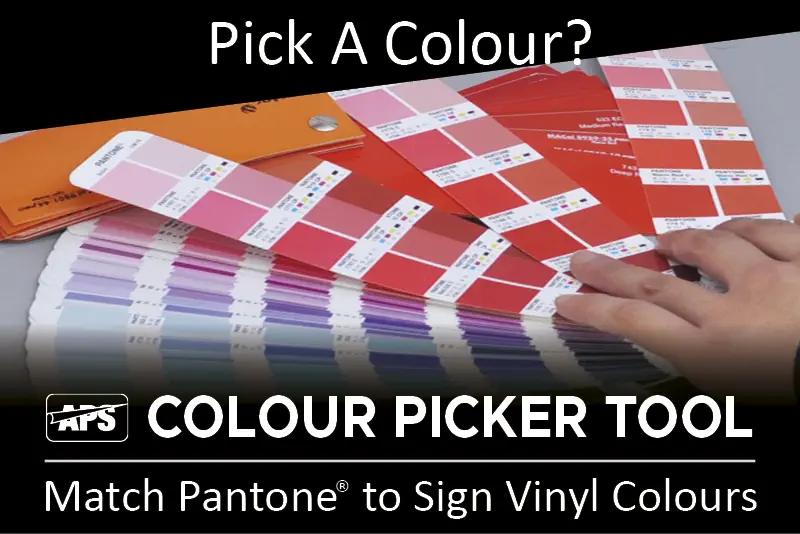 The latest Pantone® coated solid colours have been matched to our range of Gloss Solid Colour Sign Vinyls so we can offer the closest vinyl colour matches.
2,135 PMS (Pantone Matching System) solid colours printed on coated stock have been visually measured and compared to the gloss colours in our APS Galaxy II Vinyl Colour Guide and every Pantone® colour has been given the best colour match to a sign vinyl.
Some vinyl colours may not be a good match to a Pantone® colour at all – we have simply offered what we genuinely believe to be the closest vinyl colour we can offer.
Only the 1 x BEST vinyl colour match is shown on our website Colour Picker Tool but a single vinyl colour is most likely to have been matched to multiple Pantone® references, either 1 STAR (BEST COLOUR MATCH), 2 STAR, 3 STAR or -1 STAR (NO MATCH).
Also, a single Pantone® colour may have additional alternative vinyl colours matched to it, offering a wider choice of manufacturer or construction options.
Contact our Sales Offices to ask about ALL of the additional colour matches for other vinyl types not previewed as 'best' in the website Colour Picker Tool
If you can't see the vinyl construction type you would prefer there's a good chance we can offer alternative film types with equally good colour match properties (i.e.: monomeric, polymeric, cast).
Can't find the exact colour?
We are able to order bespoke Pantone® coloured vinyls – for colour critical work we can create bespoke Pantone® colour matched vinyls for as little as 1 x 50M roll!
Contact our Sales Offices for further information.
APS visual colour match ratings explained
= Excellent to Good Pantone® colour printing ink match

= Good to Fair Pantone® colour printing ink match

= Fair to Poor Pantone® colour printing ink match

= Poor to No Pantone® colour printing ink match
Click the button above to try out our Pantone To Sign Vinyl Colour Picker!
---
We stock all the media you need to complete your graphics projects – whatever you need to fulfil your graphics applications we are here to help you.
For more information, enquiries and to place orders contact our sales team: 01753 696977 or 01709 829800 or email: sales@allprint.co.uk