PRE-ORDER 'The Galaxy II' vinyl colour guide NOW for £96 each.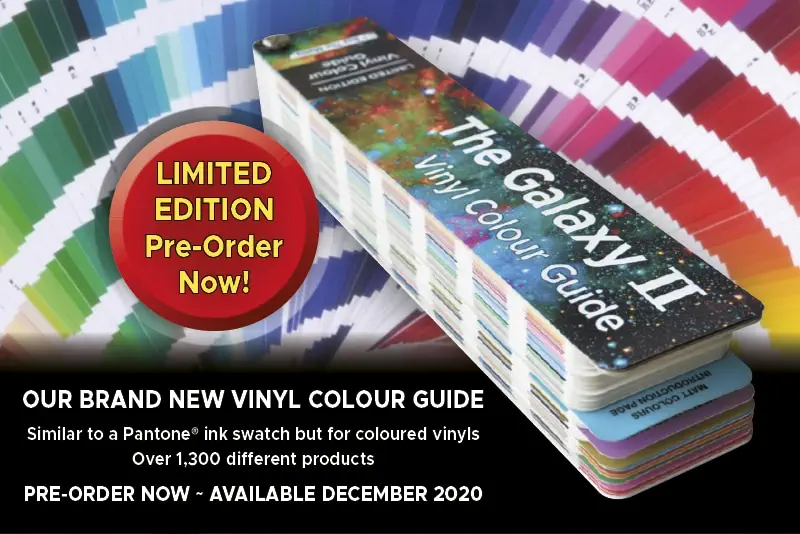 Exclusive to All Print Supplies, the limited edition 'Galaxy II' is similar to a Pantone® ink swatch but for coloured vinyls and features over 1,300 different products in gloss, matt, metallics & speciality sign colours.
All materials in the 'Galaxy II' vinyl colour guide are in stock for next day delivery.
We are currently in the process of manufacturing the new guide and plan to despatch in December 2020.
Historically our All Print Supplies vinyl guides have proved to be a great success for our customers, containing all the gloss, matt and speciality products in our range in one easy to use, portable swatch.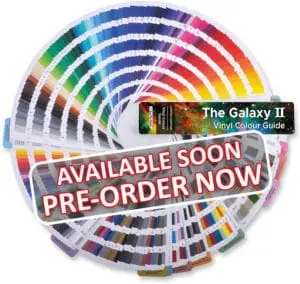 No need to carry multiple swatches; you only need to carry the one APS 'GALAXY II' vinyl guide on site!
Each product is easy to identify with some brief information on the lifespan and adhesive type
Over 1,300 coloured products from Avery Dennison, Mactac, LG, KPMF, NU-COAT
Includes even more gloss, matt and speciality colours than ever before
All products are available for next day delivery anywhere on the UK mainland
It is 2" thick, weighs nearly 1kg, but is still portable enough to carry around for client meetings and site surveys.
---
Need a few 'GALAXY II' Vinyl Colour Guides for your team…?
For a minimum purchase of two 'Galaxy II' vinyl colour guides we can PERSONALISE the FRONT and BACK COVERS to your own design.
» Click here for artwork print area dimensions to create your own cover designs (PDF download).
---
For more information, enquiries and to place orders contact our sales team – Tel: 01753 696977 or Email: sales@allprint.co.uk