We really want to hear what you have to say about our products and services.
Take our Customer Survey and be entered into our prize draw for a chance to win one of 5 x £100 Amazon Vouchers!
Here at All Print Supplies we are committed to providing the very best in client service and as such would welcome your feedback by returning this very simple email survey – it will take no longer than 2 minutes to complete.
What would you like us to improve next?
Click here to complete the survey and for your chance of winning 1 of 5, £100 Amazon vouchers!
Our survey closes on Friday 6th December 2019, at 5pm. The 5 lucky winners will be drawn and notified on Monday 9th December 2019.
– – – – – – – – – – – –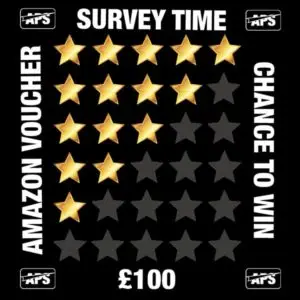 We had a great response from our customers in 2018, and some really good suggestions on how we could improve the service we give to our customers.
For instance, since the 2018 survey we have been working hard to develop and launch our online ordering portal so that you can place orders at any time that suits you.
We are currently putting the finishing touches to this and we will be in contact with all of our customers shortly to give you your personal log in details and to talk you through the system.
Last year our winners were Sam at Echo Studios, Andrew at Interprint, Brad at Staged Events, Simon at Excel Signs and Samantha at Vistamatic – Who will be this years winners of a £100 Amazon Gift Voucher? Take a couple of minutes to complete our survey and it could be you!
We would like to thank you for taking the time to share your views with us – we really do listen, so please have your say!
– – – – – – – – – – – –
For all enquiries, and to request samples and pricing, call us on: 01753 696977 or 01709 829800 or email: sales@allprint.co.uk