Premium quality marking films from Mactac, with profound, opaque and long-lasting colours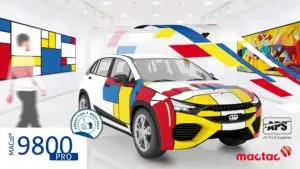 MACal 9800 PRO are premium quality marking films with profound, opaque and long-lasting colours thanks to high quality pigments and solvent adhesive formulation: avoiding of colour fading, cracks, edge-lifting and shrinkage.
Additionally, MACal 9800 HT Pro Opaque Series has 4 High-Tack grades: Black and White matt and gloss have now been added to the existing range of 100 high gloss colours.
This is a new version of Mactac's 9800 Pro but with a high tack adhesive for difficult surfaces.
This Mactac film is designed for high-performance permanent applications with up to 10 years of outdoor life.
A highly flexible facestock gives excellent conformability on flat to slightly curved surfaces.
9800 HT Pro features a high tack permanent solvent based acrylic adhesive for low surface energy surfaces and is available in both matt and gloss in white and black.